Last week I was determined to write about ground works. Leveling the area and so on, but I realized the water connection was in fact the first milestone.
Now I remember there was a lot more going on. So, we will see when I get to the ground works.
After the water was connected, and before we could start leveling the lot and rising the level up, I had to remove all spiny shrubs and small trees.
Let's talk about clearing the land.
Do it yourself or contracting land clearing services?
Land clearing services near me are not as widely available as might be in your case. Here you need to find a guy or two who are willing to let their machetes swing for a day or so or get to work yourself.
If you are lucky you can find a tractor to clear the land. The impact of such machinery is pretty big, but sometimes you are lucky and if some machinery is around you can find someone willing to help out in their lunch break, before or after their shift if you hand them some cash.
One of the things I enjoy doing myself is play around with my machete and brush cutter.
After a week of office work it's my turn again tomorrow. I am looking forward to cranking up my machine and let it cut trough the long though grass.
I do not envy the guys doing this every day and all-day-long for a living, but oh it is such a pleasure to see the direct effect of a few hours hard work.
Three week cycle for cutting grass
Once a gardener told me you need to cut the grass every 18 days to keep a perfect trimmed lawn. Now I am not going to double check that. I am writing this piece in my free time too so let's keep it light ok?
For me this 18-day period got stuck somewhere in the back of my mind. Roughly every three weeks should be the perfect schedule. In practice I do manage to trim the grass every six weeks. As you can imagine, the grass is three feet high and little trees are sprouting up, also, you can find the odd watermelon here and there.
Timelapse Santa Cruz
When I tried looking up an arial photo from our land from before we start building I came across this site https://earthengine.google.com/timelapse/ it is a low resolution version of google earth images from 1984 to 2018.
Some other day I will look up a detailed picture from the before and after cutting the grass. But this is interesting to share as well. Look how incredible the metropolis area of Santa Cruz de la Sierra has expanded! On of the fasted growing urban areas in South America if you ask me.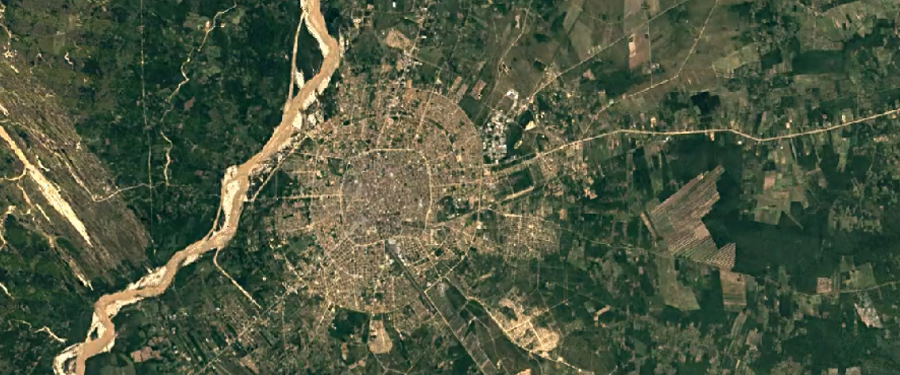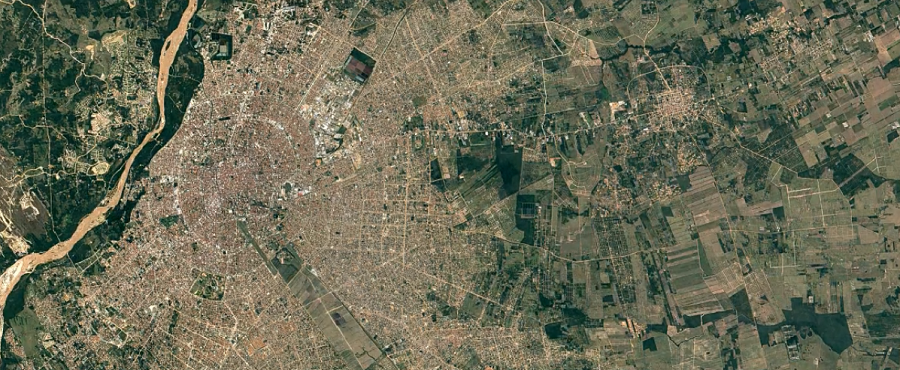 Land clearing contractors near me for clearing brush and small trees
Now let make a jump in time to the moment our land was still merely pastureland with several species of though grasses and spiny shrubs, and we needed clearing brush and small trees.
Literally cattle were grazing on the land, so you had to mind your step to avoid a smelly surprise. It is funny. A cow's torts may seem dry. But in fact, it is merely a little crust that has formed, and when you step on it, it proofs to be liquid from the inside. Like a barbecued marshmallow.
To avoid cows entering the future building lot, one of the first things you should do is fencing it or place posts with barbed wire. For some reason we did not do that from the start.
I remember why.
We tried to safe every dime and penny and discussed fencing for many hours. Why try to place barbed wire, when in the end we will build a wall anyway?
That is one for next time.
Lot clearing methods
Now about clearing the land. Generally, there are four methods;
• Burn it all down, and kill every living thing on your land
• Use Glyphosate or some other poison to kill every living thing on your land
• Bulldozer every living thing of your land, scraping of the fertile top layer with it
• Remove all unwanted growth by hand, machete, axe, or brush cutter
I can tell you right away I went for the last option, but let's have a closer look at each alternative
Burn to clear the land
This is the number one method in Bolivia. It is considered best practice and neighbors watch with approval while they burn the grass around their house and the garbage with it.
Poison to clear the land
As we tend to eat from our land, I prefer not to poison it with any chemicals. It is widely used. Even in urban areas.
Clearing land with a tractor
Good choice if you happen to have a tractor or bulldozer standing around, and if the bushes are though. The bad thing, aside from costs, is that it is likely that you destroy the top layer of your fertile land. Again. Part will be built with our house, the rest planted with edible stuff.
Clearing land by hand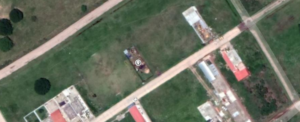 There are no land clearing contractors near me, so clearing land by hand and small machines is the way to go in my opinion. The most important reason that this way the roots of the pasture keep developing and a top layer covered with a nice grass cover is more pleasant to walk on that to stand in knee deep mud.
The effect, even with heavy rainfall, is remarkable. All paved 'gardens' from our neighbors get flooded and flush the water on the already flooded street. Santa Cruz' streets all turn into rivers, because there is no water retention at all.
In our case, we value every square foot of grass because it helps absorb the rain. A nice little detail. We sunk our septic tank and seepage pit well below surface, so vegetation can grow on top. Nobody does that.
The construction of our water treatment is another story. For another time.
A practical tip for land clearing with your brush cutter
When I started cutting the grass with my cheap Chinese brush cutter the cord broke all the time. It came with a plastic head. Make sure you get rid of the plastic cutter head and get yourself a metal one such as in the picture. I have no idea what a pro Stihl-, Husqvarna-, Honda-, or Ryobi brush cutter comes with, but just in case.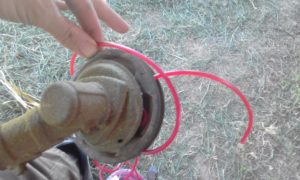 For the tough brushes, there are blades too. Be extra careful with those. They are effective but can be deadly too. I managed to smash in the back window of my truck with a small stone going ballistic. An unexpected extra land clearing cost. Luckily nobody got hurt.
If you have a small garden and you stick religiously to the three-week scheme, an electric brush cutter will do. I do not, and in the tropics, everything grows like it is on steroids, so you need a motorized brush cutter.
The ideal length for the cord is half the circumference of the head. A nice little tip (I got it from the guys at the brush cutter workshop) I wish I would have known before.